Roof Chair Topper for folding wheelchairs
The roof Chair Topper for foldable wheelchairs is a system with a crane in a roof box designed to load, transport and retrieve a foldable wheelchair next to the front door of the vehicle. By transporting the wheelchair in a roof box, the space on board the vehicle can be used as intended: passenger seats and the luggage trunk. This is the most reliable solution that exists and is suitable for most foldable wheelchairs and an alternative to the wheelchair lifts or wheelchair hoists.
Roof Chair Topper : Simple, convenient and space saving. When you get seated in your car, the Chair Topper will take care of your wheelchair for you. When you're ready to leave the car, the Chair topper will bring your wheelchair to you. In between it is safely stored in the weatherproof roof top box. It's a great solution for independent drivers as well as passengers.
General features of the roof Chair Topper:
Lifting capacity 20 Kg.
Weight 55 Kg, smooth and neat design.
Waterproof, weather-resistant compartment keeps the wheelchair safe and your vehicle clean.
Manual control allows you to load or recover the wheelchair in only 30 seconds.
Available in two versions, left and right.
Chair Topper exists in a single size and is mounted on a standard roofing gallery. The vehicle will therefore not undergo any permanent changes. All seats remain available.
Possible Transfer of the Chair Topper to a different vehicle, provided the receiving vehicle is compatible.
Parking is possible in narrow places.
Customized color.
12 V power supply.
15 A fuse.
Tested in collision and approved.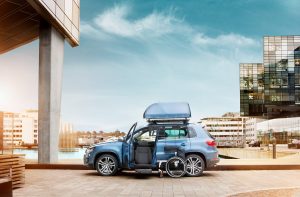 The roof Chair Topper for wheelchair in video: