Portable Wheelchair Winch PortaWinch
Portable wheelchair winch PortaWinch is part of our new generation of winches, electric wheelchair loading winches (electric car winch). Ideal for carriers, the PortaWinch is easily transferable from one vehicle to another. 
PortaWinch is the first portable wheelchair winch available on the accessible vehicle market.  By using a single winch for several vehicles, you save money and time. The PortaWinch is a removable winch with an integrated battery designed to assist in the ascent and descent of wheelchair passengers in the accessible vehicles.
Effective and functional, the Portawinch has been specifically designed to assist wheelchair users through the ramp barrier to access a vehicle. The winch offers assistance in transferring the wheelchair to the vehicle. The traction force of the Portawinch makes the process much easier for the caregiver and ensures the comfort of the passengers at all times.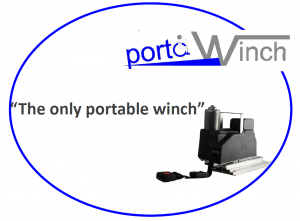 The PortaWinch is the one and only portable wheelchair winch available today on the market. 
Meticulously and skillfully designed with a small-scale footprint, the PortaWinch can be installed in any vehicle with limited indoor space.
Powered by an efficient electric motor and with an anti-return mechanism, it has a safe and impressive loading capacity of 250 kg and it has several features and advantages.
Characteristics of the Portable Wheelchair Winch PortaWinch:
Simplicity: Easy Installation and use in 1-2-3. Supplied with 2 easy-to-use, ergonomic wireless remote controls.
Power: Weight of wheelchair and occupant up to  250 kg.
Compact: Dimensions: L 24.5 x W 12.5 x H 23 cm; Assembled weight: 4.15 kg.
Safety: Anti-return ratchet mechanism. Safety sensor with overload and obstruction with "emergency stop" protection.
Silence: Gentle operation and very quiet high quality engine.
Aesthetic: Small and compact unit with molded cover covering all moving parts to prevent damage or injury.
Manufacturing in the UK: complies with ISO 10542 (not 2012:2015) and EMC standards.
Reliability:  

Robust and reliable, tested for a long life
The PortaWinch Portable Wheelchair Winch Suitcase Kit includes: ‣
1 Winch PortaWinch 

1 V-Belt. 

1 Battery backup 

2 Wireless remote controls.

1 Charger 220 V 

User manual. 
This slideshow requires JavaScript.
Download leafletFree quotation