Wheelchair winch Ax-S winch compact
Wheelchair winch Ax-S winch compact is an electric wheelchair loading winch (electric car winch) specifically designed to assist wheelchair users through the ramp obstacle to access a vehicle. The wheelchair winch is an aid to the electric ascent and descent of the wheelchair. The winch is an aid to the transfer of the wheelchair in the accessible vehicle.
Ax-S Winch Compact is a very compact wheelchair loading winch (car winch) benefits from the "Soft Start & Stop" function (progressive acceleration and deceleration).
Characteristics of the Wheelchair Winch Ax-S winch compact:
Reliability:  a simple and robust system with no superfluous gadgets.
Compact: dimensions: L14 xH18 x L22 cm, allows maximum integration in the vehicle and facilitates the passage of the wheelchair.
All in one: electronics, motor, other components in one single device etc.
Aesthetic: plastic design hood.
Simplicity: instinctive use of electric wheelchair winch for wheelchair accessible vehicles
Safety: protection against overloading currents and overheating.
Comfort: the unique "Soft Start/Stop" function allows smooth and gradual acceleration and deceleration. This feature provides a comfort and safety sensation to the wheelchair occupant.
Silence: high quality DC motor very quiet.
Two remote controls provided: one for intensive use and another in case of emergency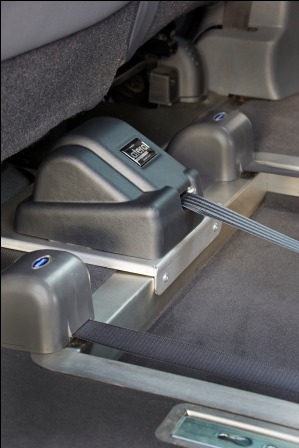 Technical data for the electric wheelchair winch
Maximum load of the wheelchair loading winch is 150 kg
6 meters belt
Option: 3 meter long adjustable belt extension
 Feel free to contact us for more information on the winch! 
Download leafletFree quotation
Check other wheelchair winches
---