Wheelchair access ramp: IRP composite ramp
This wheelchair access ramp is a portable and folding lenght-wise composite structure, that combines resistance, stiffness and lightness.  
The aluminium honeycomb composite structure provides exceptional mechanical properties while keeping the lightness required to handle a ramp by a disabled person.
The IRP wheelchair ramp can be used to provide access to buildings or to load an empty wheelchair in a wheelchair acessible vehicle.
Once opened, the ramp forms a single practical and safe surface for wheelchair users.
Wheelchair access ramp features:
Lightweight: Average weight of about 9.4 kg/m2, which makes this ramp one of the lightest ramps on the market
Resistance: Maximum load of 350 kg
Stiffness: Deformation under weight is minimal compared to a conventional ramp
Flexible folding ramp length-wise: for easy storage
Can accommodate any type of wheelchair: With its internal width of 76 cm, the IRP ramp can be used with any type of wheelchair, including 3-wheel scooters
This width also offers a very good stability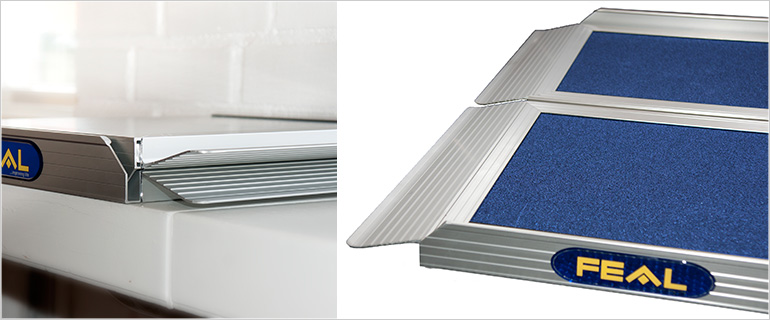 Download leafletFree quotation